Industrial Furnaces - Furnace Spares, Furnace Repairs, and Furnace Modification
Excel Heat specialise in batch and continuous furnaces for all types of ferrous and non ferrous heat treatments with temperatures up to 1300 C (2400 F). The company welcomes enquiries from both existing and new clients.
Over the years Excel Heat has produced numerous furnaces which have varied greatly in type, configuration and size some specially designed and manufactured to suit our customers requirements.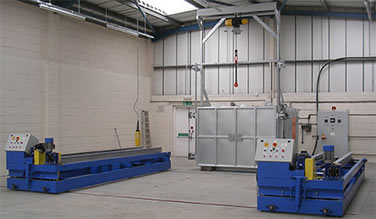 Lift off cover
Hydraulic Hearth
Bogie Hearth
Roller Hearth
Enamelling Furnaces
Hardening Furnaces
Tempering Furnaces
Annealing Furnaces
Normalising
Drying
Lead Bath
Inert Atmospheres
Jet Stream
Cooling
Quenching
PLC Controlled
Thysistor Controlled
Direct Switching
For more information on our range of ovens, furnaces, and spares / repairs feel free to visit the contact page for all contact details – your enquiry is valuable to us. If you need immediate assistance please contact Mike Kealy on +44 (0) 1384 560713.