Industrial Furnaces - Muffle Furnaces - Spares / Repairs - Furnace Modifications
Excel Heat specialise in batch and continuous furnaces for all types of ferrous and non ferrous heat treatment with temperatures up to 1300 C (2400 F). The company is located in the heart of Central England and welcomes enquiries from UK and International clients.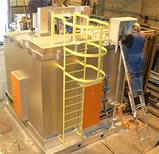 Industrial Furnaces
Muffle Furnaces
Electric Furnaces
Enamelling Furnaces
Heat Treatment Furnaces
Preheat Furnaces
Hardening Furnaces
Annealing Furnaces
Continuous Furnaces
Atmosphere Furnaces
Quenching
The company has been designing and building furnaces since 1969 and, in that time, has supplied equipment to many highly prestigious companies requiring very exacting standards to specific design criteria. Excel Heat is under the management of, time served MD, Mike Kealy. Mike is very much 'hands on' and personally runs a large proportion of contracts.

All Excel Heat furnaces are designed and manufactured in house by qualified experienced engineers to ensure the quality of our product. Each project is directly overseen by a fully qualified project manager – to ensure a seamless and fully co-ordinated project.

For more information on our range of oven's furnaces and spares feel free to visit the contact page for all contact details – your enquiry is valuable to us. If you need immediate assistance please contact Mike Kealy on +44 (0) 1384 560713